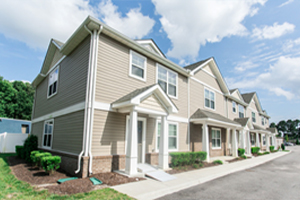 Fall is right around the corner, bringing with it, colorful, changing leaves, cool, crisp temperatures and pumpkin spice, everywhere you turn. We love everything about autumn on the coast, with weather still warm enough to walk along the oceanfront, but cool enough to cozy up in a sweater with a piping hot cup of cider.
Our favorite part of fall is decorating and bringing the bright and colorful hues of the season outside to our apartments and townhomes inside. Whether its putting together an assemblage of mini pumpkins and gourds for a festive centerpiece, switching out accent pillows and throw blankets or filling our patio and front door planters with bright, seasonal mums, we adore every bit of it.
We love coming up with new, easy ways to bring fall decor and styling into your home. Here are several of our favorite fall decor ideas we know you'll enjoy! 
Pumpkin & Gourds Galore
An easy way to brighten up your home this fall is by picking up a smattering of colorful gourds and pumpkins. You can assemble them in a bowl and place at your table's centerpiece, stack them and place them beside your front door entryway or line them up on your mantel. Any way you put them together, they'll instantly bring bright colors inside your home for a fall, festive feel!
Fall Accents
Changing out your accent pillows and covers, throw blankets and bedding are all fun and easy ways to add pops of color and texture to your home. Pick up throw blankets and pillows in shades of gold, burnt orange and bright white. Take out your heavier throw blankets and ultra cozy, warm bedding and you'll be feeling like fall in no time.
Seasonal Wreath
Before you even step inside your front door, bring the feeling of fall to your entryway and pick up a festive, fall wreath. You can purchase these handmade at local garden shops and farmer's markets or pick up a store-bought wreath that can be reused for years to come. 
Lanterns & Lighting
Placing large, glass lanterns along your mantel or at the center of your dining table gives your home an ethereal, fall feeling. Place LED lights inside or even small pumpkin for pops of color and fun.
Mums the Word
In fall, mums are in full bloom, and these bright and colorful plants really give us a sense of the season. If you have a patio garden or keep planters beside your entry, consider switching them up and placing bright yellow, white or dark purple mums inside them for a touch of fall flair!