Easy Holiday Decorating Ideas We Love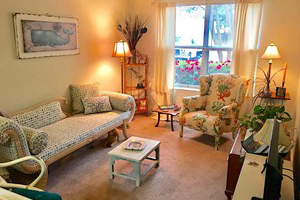 We wait all year long to break out our holiday cheer and begin decorating for the holiday season. Sparkling ornaments, bright evergreen and twinkling lights make every home feel cozy and welcoming, and you don't have to be a professional decorator or DIY expert to bring the colors, texture and scents of the season into your living space.
It's easy to decorate with simple materials that are budget-friendly and ready-made. Whether you like to enjoy a living room filled with greenery and garland or a holiday-perfect centerpiece to wow your dinner guests at your holiday gathering, there are easy holiday decorating ideas to help you get the job done.
Here are 5 easy decorating ideas to help you bring the holidays into your home this season!
Sparkling Serving Tray
One of the easiest ways to decorate for the holidays is to take any serving or cake tray that you love and fill it with colorful, sparkling ornaments. You can also add scented pinecones or sprigs of holly or evergreen, to give the centerpiece added texture and seasonal scents!
Jazz Up Glassware
Gather up your favorite glass jars, vases and containers and fill them with seasonal items like sprigs of holly, pine cones or colorful ornaments. Place the glass containers together on your table for a centerpiece, or along your mantle or entryway table for a dazzling effect throughout your home.
Window Dressing
Transform one of your windows into a winter wonderland by decorating it with strings of ornaments, beads or garland, tiny evergreen trees, small glass containers with ornaments inside or a small wreath, hung neatly at the center.
Ornaments Everywhere
You simply can't go wrong by hanging ornaments throughout your home, and this decorating idea is easier than you think. Purchase ribbon and hang ornaments from your windows, your mantle or on smaller trees placed neatly throughout your home.
Evergreen Everywhere
Gather up bright green garland to decorate above your doorways, on your mantle or even across your windows. Place inside glass jars, inside your holiday centerpiece or in vases placed neatly beside your beds. You'll smell and feel that holiday spirit in no time!