5 Ways To Stay Warm Without Raising Your Electric Bill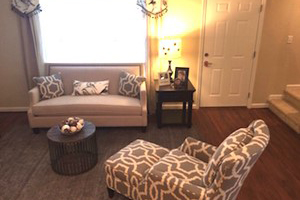 In winter, getting and staying warm is a priority, and you'll likely want to keep your apartment as warm and cozy as possible as the season kicks into full gear. While turning your thermostat up might create immediate warmth indoors, it can also cause your electric bill to skyrocket. The good news is there are other ways to heat your home without increasing your expenses, and we're highlighting 5 of them to get you started.
This season, stay comfortable and warm at home without hiking your thermostat and enjoy refreshingly low electric bills, all winter long. You can start by taking advantage of your windows, and using the sun's heat by day. Stocking up on warm blankets, bedding and clothing can help you to stay warm while you sleep and rest, without having to alter your thermostat. Finally, making small decor changes and watching your thermostat regularly, can help you to keep your apartment feeling cozy without the added cost.
Here are simple ways to stay warm at home this winter without raising your electric bill…
Watch Your Windows
Take advantage of your apartment's big, bright windows, and keep blinds and shades open during daylight hours to let the warmth from the sun into your home. As night falls, close blinds and shades tight to keep the cold out.
Manage Your Thermostat
To keep your electric bill from rising, try to keep your thermostat at 68 degrees as often as you can. Avoid turning your thermostat off when you leave, keeping the temperature steady at 68 degrees, instead. If you must turn up your thermostat for any portion of the day, be sure to turn it back to 68 degrees at night when you sleep and can bundle up with bedding, blankets and warm layers.
Get Cozy
Winter is the best time to invest in warm, fluffy throw blankets, flannel sheets, heavy down comforters and other cozy items that can help you to warm up at home without having to crank up your thermostat.
Warm Up With Rugs
Cover bare floors with fluffy rugs and add instant warmth beneath your toes. Pick up rugs to place on tile bathroom floors, and consider choosing a wool rug for extra comfort and thickness.
Dress Warm
In cold weather months, make sure to dress as warmly as possible, even when you're indoors. If you dress in warm layers, keep socks on feet at all times, and keep your skin covered, you'll find that you won't need to turn your thermostat up past 68 degrees more often than not.