5 Tips For Easy Downsizing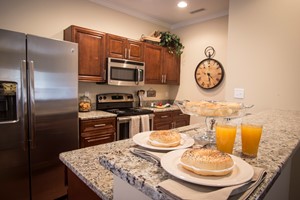 Moving is stressful, no matter how positive and exciting your new home might be. If your move includes downsizing in bedrooms or by square footage, the stress can begin to hit even sooner. After all, trying to choose what to keep and what to let go of takes careful thought and attention, and if you're going down significantly in square footage, you might be letting go of more than you realized.
Downsizing can be a truly positive and cathartic experience, if done carefully and thoughtfully. To truly downsize, you'll have to start big, by looking at the large furniture items that simply won't make it through the door of your new apartment or townhome. Once you've decided what big furnishings need to go, you'll want to look at your closet space, clothing and special keepsakes. Are there items that you can rehome to loved ones? Will you need to consider a temporary, smaller storage space until you've found homes for items you aren't quite ready to part with?
Moving to a new home is truly a new start, and letting go of items that no longer serve you or your new space is a natural part of life. To help guide you through your upcoming move, we've chosen 5 of our simplest tips to help you downsize with ease.
Start Big
If you're downsizing from a three bedroom to a two bedroom, it makes most sense to get rid of the large furnishings from that extra bedroom first. Offer up beds, dressers, desks and side tables to family members, consider selling them or consigning them or give them as a tax deductible donation to a charity of your choice. If you're downsizing square footage, but not by rooms, you'll have to be strategic about what big furnishings to keep and what to let go of. Take careful measurements in your new home before you move in, and use these measurements to help you choose what will fit and what won't. If you have big, bulky buffets that you know will take up your precious dining room space, consider letting it go. The more bulky furnishings you get rid of now, the more space you'll enjoy later.
Stick With Small
Don't feel like you need to toss all of your kitchen gadgets, collectibles and chotchkes, just because you're downsizing. If you have a variety of small furnishings and items that you aren't sure what to do with yet, go ahead and take them with you and decide after you move. You'll find that many of these items can be reused in your new space, and with ample closet space, you'll be able to store them with ease.
Consider Storage
Now that you've offloaded your largest items, and identified the smaller items that you know you want to keep, it's time to think about the storage space in your new home. If you have abundant closet space, you can be more generous with clothing, accessories, holiday decor and other items you keep in storage. If not, you might want to consider the possibility of renting a small storage space to store items that you aren't ready to part with.
Clothing
Even with abundant closet space, clothes horses can find that downsizing requires a certain amount of paring down. Move systematically through your closet and anything that you haven't worn for over a year or more should probably go into the donate, giveaway or consign pile. If you've been holding on to items with tears, stains or in need of repair, ask yourself if you're truly going to be able to make them new again. If not, toss them.
Keep What Matters/Rehome What You Can't Keep
At the end of the day, you have mementos, photos and items that truly matter to you. Don't feel pressured to get rid of special items that have significant meaning to you. Instead, keep what you can, and anything that you know you can't find a place for, offer to your grown children, grandchildren, nieces, nephews, sisters, brothers or lifelong friends.